In one of his numerous quotes, Abraham Lincoln once said, "Give me six hours to chop down a tree, and I will spend the first four sharpening the axe." Also, a Chinese philosopher, Confucius, wrote, " A man who does not plan long ahead will find trouble at his door." – Confucius.
The above quotes talk about how important planning is to ensure success. It also highlights that a business cannot be successful without proper planning and execution.
Therefore, thirsting to know about the basics of starting a salon business is the right choice to boost your possibilities of success, and we are ready to guide and lead you through it.
So join us as we take you through the basics of starting a salon business, from licensing to finding the right location.
Let's get started.
8 Cogent Basic Steps To Start a Salon Business
Acquire a Business License and Permit
The first important step is acquiring the necessary business license and permit. Not only is this a legal requirement, but it's also important for building trust with your potential clients. Starting a salon business might seem daunting, but acquiring a business license and permit is essential to turn the dream into a reality.
To obtain a business license, here is what to do;
The first thing to do is to go to the city or municipality where the salon will operate.
Made finding on the requirements
Complete the application
Provide identification documents
Pay the necessary fee.
The permit to operate the salon will depend on the type of services offered. For instance, a separate permit is required if the salon offers hair services, nails, and massages. Check with the state board of cosmetology to determine the licenses and permits based on the salon services.
However, here are some of the major licenses to acquire:
Certificate of Occupancy
State Cosmetology or Beautician's License
Salon Retail Seller Permit
Salon Business Operation License.
After obtaining the license and permit, you can finally proceed to the next step.
Construct Your Business Plan
The next phase is to plan how to make your salon business work out. As we've been saying, if you fail to plan, then you just plan to fail, which has nothing to do with the size of the business. Writing a business plan will not only help you get everything organized, but it'll also be essential in case you need funding.
So what should your salon business plan document include? Here are some of the important points:
Business Model
Your Mission
Marketing Analysis
Human Resources Plan
Financial Plan
Advertisement Plan
While writing the business plan, also include a realistic monetary goal and marketing strategy.
Find a Perfect Location
The success of your salon business also rests on location, which makes location one of the most important aspects of starting a salon business. However, we will advise you to look for locations that are;
Easily accessible by clients
There is enough packing space
That fits your budget
Located in the center
Also, it's important to consider the type of salon you are setting up before selecting a location. If your salon specializes in hair services, beauty, or nails, look for locations near an area with several complementary businesses, such as boutiques and fashion stores. Additionally, consider the local competition when selecting a location. Choosing a spot where your salon stands out in terms of offering services and prices is important.
Source for Supplies
After securing a business license, writing a business plan, and finding the perfect location, it's time to source supplies like chairs, hair dryers, styling products, etc. Moreover, it's important to remember you should have a top-quality hairdressing chair that is comfortable and adjustable for your customers. Also, source the necessary equipment and supplies within your budget.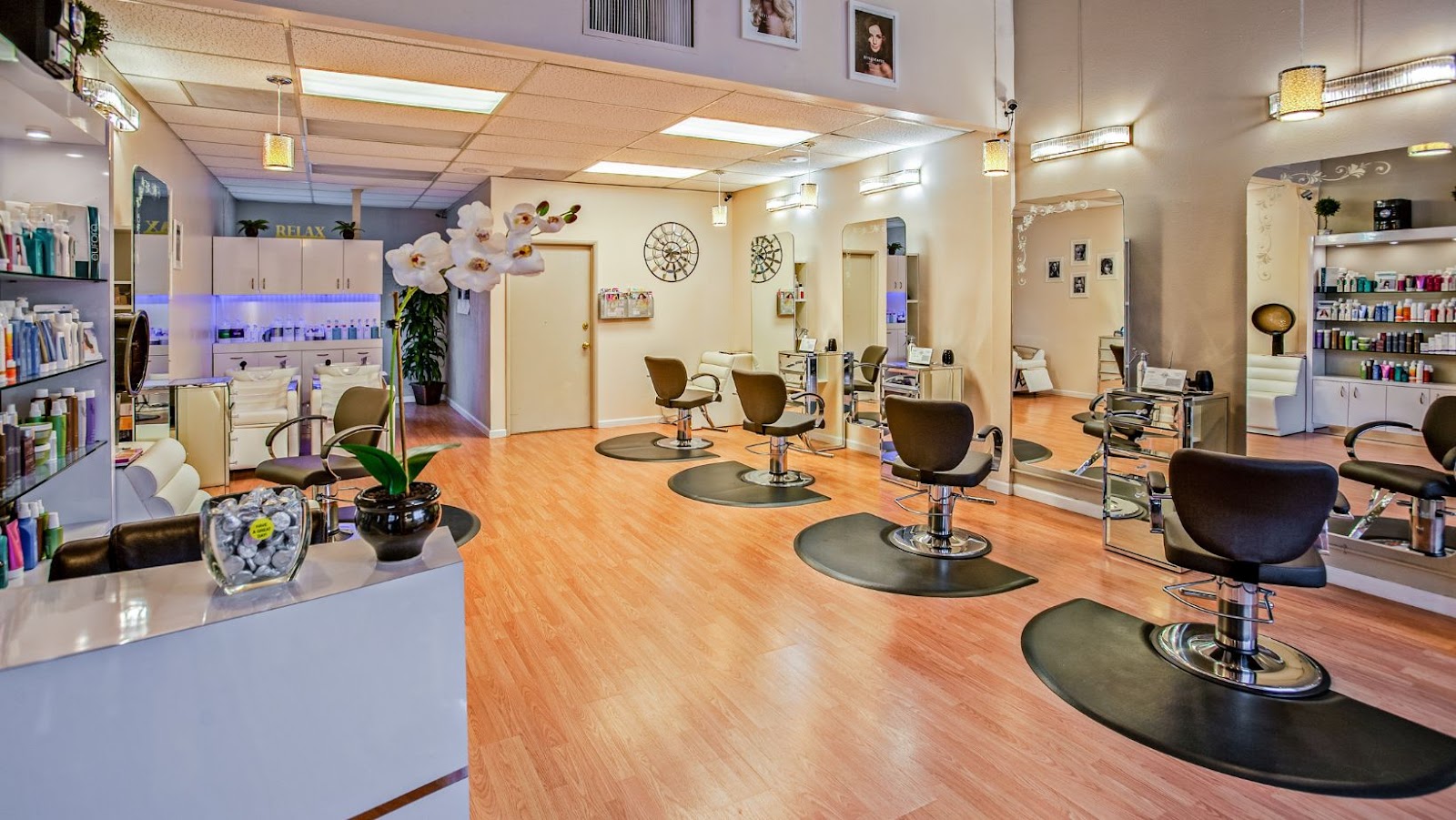 It's particularly essential to buy beauty supplies from reputable wholesalers or vendors. Buying from the right wholesalers increases your chances of getting good quality, affordable supplies for a long time.
Set Up Your Salon
You can go about this differently depending on what you want and how much money you have on the ground. Most importantly, you must choose a design that reflects and showcases your brand. This includes the interior decor, furniture, and color scheme. Also, consider your clients comfortably when setting up, and it's essential to ensure that you have reliable Wi-Fi, good lighting, and modern equipment such as;
Hair dryers
Salon aprons
Styling chair
Elegant style mirrors
Hair straighteners
Hair curlers
Shampoo stations.
Additionally, ensure to adequately train your staff before opening the salon so they can offer high-quality services to your customers and make them return.
Build a Clientele
Another salient step to getting your salon business up and running is building a clientele. This includes marketing, advertising, or even word of mouth.
Here are some tips on how you can go about it:
Create a website for the salon and use social media for marketing the business
Develop a loyalty program to reward customers
Organize special events and promotions
Participate in local events and festivals
Create an online presence for your salon on different social media platforms.
Also, note that building a good reputation is essential to have customers trust your salon.
Insure Your Salon
Although insurance may not be mandatory for some salons, it is highly recommended to have one. This is also essential to launching a successful salon business. Yet, it's not the most glamorous aspect of planning your salon, but investing in an insurance policy is crucial.
Insurance coverage will protect you against financial loss in the unfortunate event of damages, injuries, or lawsuits. It's better to be prepared and stay protected to focus on building your brand and creating beautiful customer styles. Trust us; your investment will thank you in the long run for ensuring you're fully insured.
Invest In Salon Scheduling Software
Finally, do you want to ensure your salon business runs smoothly and efficiently? If so, investing in salon scheduling software like Bookeo can be one of the most crucial decisions you make for your business.
With website-integrated or standalone features, salon scheduling software can handle many tasks for you. Imagine having bookings and payments taken care of without manual tracking.
Additionally, the software sends booking confirmations, reminders, and follow-ups, ensuring that your clients are never left wondering about their appointments. Online rescheduling is also attractive, saving you time and allowing your clients to make changes conveniently.
In addition to helping you save time, scheduling software can also improve your client's experience. Using modern technology to schedule your appointments can give your salon a sophisticated and professional image. Considering this software, you can easily step up your salon game, taking your business to the next level.
Final Thoughts
Starting a salon business is an exciting venture but requires preparation and dedication. To ensure success, you must start on the right footing by understanding the basics of starting a salon business.
From acquiring a license to investing in scheduling software, we've discussed the steps to launch your salon successfully. We hope this article has been useful to you and provides the guidance needed to turn your dreams into reality.