In a vast country with a large population like the USA, you will often find yourself looking up someone you met online to know more about them. The problem is a shortage of reliable people finder sites you can use to get accurate information when needed.
FastPeopleFinder, as this review will reveal, is the leading USA people finder that is widely and freely accessible from any state. Here, we dissect what makes this website such a reliable people search tool and why it is the go-to option for anyone looking to do a background check on US citizens.
What Does It Mean To Look Up to Someone in the USA?
Looking up someone on a people finder site like FastPeopleFinder refers to searching someone's information, including criminal records, family relations, phone numbers, and social media handles.
Going by that simple description of what it means to look up someone, we understand that we've all needed to use such a service at some point. You probably did not proceed with your objective because the tools you found online were cumbersome or required you to pay a hefty fee to generate any results. In the following paragraphs, we'll discover how FastPeopleFinder makes people look up in the US a convenient and fulfilling experience worth your time.
What Do I Need To Lookup Someone on FastPeopleFinder?
FastPeopleFinder has made it simple to look up anyone in the USA with just a few details about them. From this, it will generate more reports based on publicly available information.
To look up someone on FastPeopleFinder, you will need to have any of the following bits of data about them;
A phone number
A valid email address
The physical address, including state and city
Their first and last name
Based on this information, FastPeopleFinder will communicate with all the databases it is connected to and help you refine your research on a person or business.
FastPeopleFinder – Why It Is the Best People Finder in the USA?
Many features of FastPeopleFinder endear users to the platform, which is why it gets high rankings on the most popular website review sites. One of the many standout features of FastPeopleFinder is that it is a free service. This website sets itself apart from competing platforms by choosing not to charge fees for its service.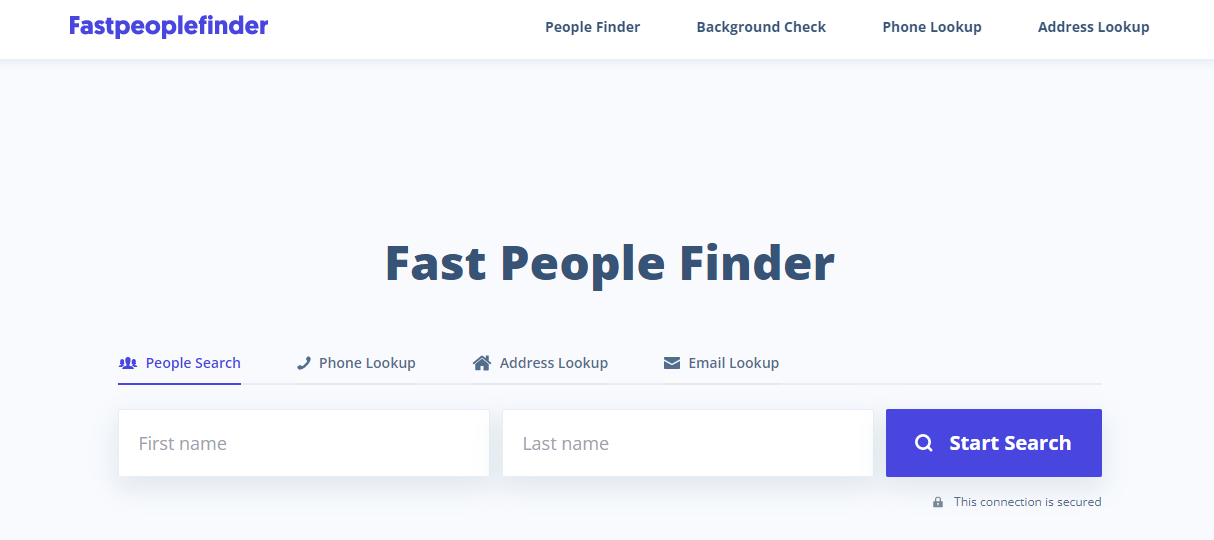 Many people who have attempted a person lookup online in the USA will admit to how economical this is, considering some people search tools will charge up to $200 per report for information that is not 100% accurate. All you need to do is log on to the site and search. You won't need to register or share your personal information.
Accessibility is another critical feature of FastPeopleFinder which is expertly designed with a user-friendly interface focused on delivering the best user experience. Navigating from top to bottom, you will notice a search field where you can input a person's details to run a search on them. This site loads fast and flawlessly on all screen sizes and thus can be used on a PC and mobile phone without any issues.
The platform also goes the extra mile to educate you on what each type of search available is about and how to get the best from it. FastPeopleFinder has many resource pages that will help you learn more about the do's and don'ts of looking up someone online in the USA to ensure you do not run into any legal issues.
In line with this, the website also adheres to Fair Credit Report Agency (FCRA) guidelines. Therefore, it warns against using data from its platform to screen candidates for employment and financial grants or determine a renter's credit score.
How Can I Look Up Someone in the USA?
Looking up someone in the USA online via FastPeopleFinder takes only a few minutes. The platform has access to more than a billion public records so that you can access 100% truthful information on anyone. To look up someone, follow these steps:
Select An Option From The Top Menu
FastPeopleFinder is differentiated from other people lookup sites because it allows you to search for information on people using different tools. Depending on what data you have on the object of your search, select the People Search, Email Lookup, Phone Lookup, Background Check, or Address Lookup.
Type Or Copy And Paste The Data
Immediately you choose an option on the top menu, the search bar below it will correspond with your choice and provide a search field to key in the details you have. Here, the more information you can avail on a person you are looking for, the more thorough the report FastPeopleFinder will generate on them.

Click Search And Wait
Once you've keyed in the information you want, hit the search button and patiently wait for the website to query different records in its database to find a match. In a few minutes, you will see a list of results, and you can tap on the one that corresponds to what you are looking for to open up more information on a new page.
These three simple steps are all that you need to know to look up someone in the USA on FastPeopleFinder. You can run as many searches as you need and also scroll through the list of trending searches to see if there is a match for someone you are looking for.
Which Information FastPeopleFinder Give Me on Someone I Lookup?
Thoroughness is a crucial feature of FastPeopleFinder. This website will reveal all publicly available information on someone, including;
Social media profiles
Criminal records
Past and present home address
Current phone number
Official name and family members
Age and date of birth
FastPeopleFinder performs well according to the details you share about a person when looking them up. Ensuring that you key in the right information without spelling errors and sharing as much as possible will help the site filter results better and improve their quality.
FAQs
Why Is FastPeopleFinder the Best USA People Finder Tool?
FastPeopleFinder has an easy-to-navigate user interface, is 100% free, and provides accurate results making it the best USA people finder tool.
Can I Use FastPeopleFinder To Screen Employees?
No, as a tool that complies with FCRA regulations, FastPeopleFinder cannot be used as a resource to screen a candidate's eligibility for employment.
Will Someone Know I Searched for Them on FastPeopleFinder?
Using FastPeopleFinder is a discrete process, and the person you are looking up will not know that you searched for them online.
How Can I Improve the Quality of My Searches?
Provide truthful information on the person you are searching for and ensure no misspelled names, addresses, or inaccurate numbers in your search.
Summary
In an increasingly digital world, we need to be able to look up our loved ones online, authenticate the identity of online merchants, and check what others see about us. Such lookup queries are essential to do on a reliable website. FastPeopleFinder is the number one USA people finder platform that allows you to look up information on anyone and get a detailed report in under ten minutes. This website is user-friendly, free, and accessible from all internet devices.